It is essential to have a great workplace environment experience.
Recently, it is becoming an essential condition for companies to provide a workplace environment where employees can feel satisfied in an office and remote hybrid environment where work styles and working environments have become diversified.
NTT Com DD provides "Intelligent Workplace" solution based on the "employee experience" which we have always been promoting as a solution to such issues. Of course, we design infrastructure under the assumption that a large number of people will work remotely as the first choice. Additionally, we provide a workplace environment where it is possible to work comfortably and with peace of mind anytime and anywhere as a solution centered on people by utilizing IoT technologies to realize a comfortable office environment and propose work styles which stimulate communications leading to innovations.
Solutions
Providing communications functions to enable participations from all devices
Hybrid Communication
We offer a new information sharing platform with employees and clients by using tools to host meetings online and to participate in meetings anytime from any device. We propose optimal products to meet your needs depending on the form of your office and how you will use them. This includes mobile devices, tablets, laptops, and videoconferencing systems for meeting rooms. We can provide systems from various vendors including Cisco's "Webex Meetings" which is widely used as the global standard.
Building a trustworthy cloud-based telephone system
Cloud Communication
By utilizing the strengths of NTT Group, you can build a high-quality and flexible telephone system. We can provide a cloud-based telephone system such as Cisco's "Webex Calling" in the optimal form to suit your current environment and needs from the "SP Model" which uses telephone lines on the cloud side and the "VAR model" which uses existing telephone lines. This enables us to realize various benefits such as reduced management and maintenance costs by migrating from a conventional PBX-based telephone system to a cloud-based telephone system. Additionally, it will be possible to utilize the cloud-based telephone system as a means of communication as before as it can be used regardless of where your employees work.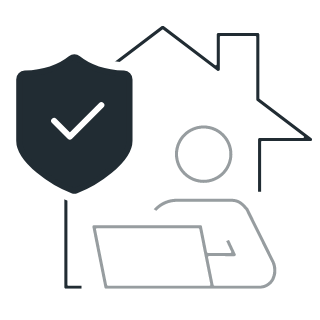 Providing remote access environments and voice call environments which support working remotely
Secure Home Workers
We supply a remote access environment to securely provide network connections from homes of your employees, out-of-office locations, and branch offices. It will be wise to use encrypted and secure connections between the homes of your employees and offices with VPN. We can also provide the use of telephones and videoconferencing systems even in remote environments with Cisco Unified Communication Manager (CUCM). Moreover, we can provide security camera solutions to monitor offices and devices remotely.
Strategic technology partners
We offer comprehensive support for any vendor, for the design, introduction, operation, and management of IT environments with our extensive experience and expertise.
We support your business by providing multi-vendor network services to meet your needs.