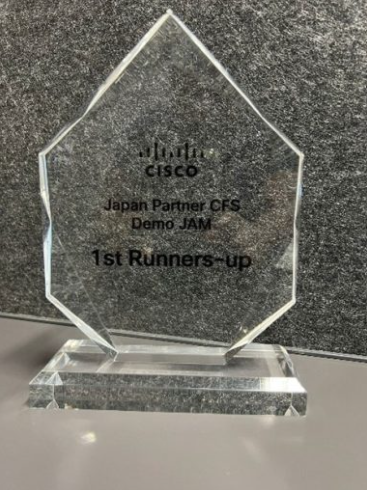 This is MK from NTT Com DD Innovation CoE team. Happy to share that I have achieved 1st runner-up in Cisco APJC Catalyst Full Stack Partner Demo JAM contest for Japan theater, this is my first time to participle in Cisco contest and I'm satisfied with the result that achieved. I'm sincerely express my appreciation to all the help and inputs provided by my team members so that I could complete and bring up the demo in a short period of time.
First, let's understand the purposes for Cisco Catalyst Full Stack Demo JAM.
Cisco Catalyst Full Stack is the single most critical campaign to the overall EN business, while its primarily an EN campaign it also drives adjacent architectures e.g., Cisco Security.
Partners are required to build the confidence, and capability to demonstrate Cisco Catalyst Full Stack solution effectively.
Demo's are a powerful tool to help customers to visualize the value of solutions that we are selling and convey complex topics in an easy-to-consume manner.
This contest is aimed at partners to create the most creative and impactful Live demo for new Catalyst Full Stack.
Now you have a better understanding the purposes and now let's share my journey as a contestant. My intention of joining this Cisco contest was to demonstrate and validate my demo capabilities as a technical architect, also to further improve myself throughout the contest and further develop for any missing pieces based on the feedbacks from Cisco and NTT Com DD internally.
We have started with a discussion internally and we had decided to choose the use case of Power Hybrid Work for this contest to align back with our strategy of Secure Hybrid Work Solution to provide a reliable and secure workspace for the remote workers.
These are the 4 demo use cases that we have built:
Cisco Catalyst Wireless platform (OEAP) extending the cooperate Wi-Fi to their home using Catalyst Access Point for remote workers.
Cisco Umbrella securing the internet access for remote workers accessing the SaaS applications and cooperate applications hosted on-premises.
Cisco ThousandEyes provides end-to-end visibility for internet and intranet applications.
Integrated between Cisco ThousandEyes and Webex Teams to provide troubleshooting automation using ChatOps.
Basically, we have all the required Cisco devices and SaaS platforms, they are up and running in our lab hence it really saving a lot of time and effort to source them. Also, with our own gears and setup, we could have more flexibility and customization to build the use cases. We have spent roughly 3 man days to build up all 4 demo use cases with testing and verification, following with couple hours of practices on the demo flow ensures to deliver the demo smoothly.
The most challenging part for this contest was the allocated demo time is only 5 minutes, so with 1 slide briefly explains the entire solution to deliver the importance messages and the remaining time for demo. Roughly 1 minute for each demo so it has to be short and punchy to deliver the meaningful outcomes.
It was a great experience with additional lessons learned from this contest. Firstly, the importance of continuous learning and staying updated with the latest technologies, trends, and best practices. Secondly, the value of collaboration and networking with industry professionals and organizations. Lastly, the need to think creatively and embrace an innovative mindset when approaching problem-solving and solution development.
The conclusion for the contest. This achievement serves as an inspiration to others in the industry and highlights the importance of continuous learning, collaboration, and embracing new technologies. As the field of technology continues to evolve at a rapid pace, it is crucial for professionals and organizations to stay ahead of the curve by investing in innovation and skill development. By doing so, they can position themselves for success in the ever-competitive technology landscape.
Finally, from my personal thought on the use case of Power Hybrid Work. Despite the pandemic is considered over across the globe but the remote and hybrid work practice is still carrying on for many organizations hence it's still an importance part for IT team to look after and securing the remote workers from any threats that could potentially harm their endpoints, ultimately the likelihood for the compromised remote endpoint to further outbreak to the organization's network.